About SoHud Columbus Ohio
SoHud Columbus Ohio
A diverse central Ohio community, SoHud Columbus Ohio covers the area between Hudson and Iuka Ravine, east to the railroad tracks and west to approximately High Street. The SoHud Blockwatch began in October 2012, following a community meeting that we set up regarding graffiti and vandalism, attended by City Attorney Rick Pfieffer, Councilmember Zach Klein, State Representative Mike Stinziano, several University Area Commissioners, Neighborhood Liaison Isom Nivins, Columbus Police officers Steve Smith and Chantay Boxill, and several other City officials and community group members. Our paperwork to be recognized as a formal Block Watch was processed in March 2013.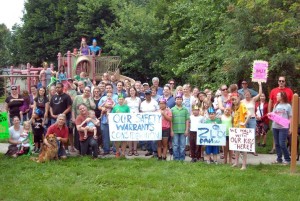 Although many Block Watches are focused on crime prevention only, the SoHud Blockwatch realizes that our neighborhood's fractured nature (given the large portion of residents who move in and out every year or two) is actually something that makes the area more vulnerable to crime. So, we are strongly committed to building a sense of community, to working on civic issues like upkeep of properties, and to maintaining the warm, friendly feel that we've worked hard to build.
The SoHud Blockwatch received a $5,000 grant awarded by the Coalition for Nonviolent Columbus to acquire supplies for a graffiti paint out event. The event was very successful and only used 20% of the funds, the remaining was returned back to the city for future Grants. We have also applied for, and received a grant for $1,000 to create a welcome/safety information packet for new residents. Based upon the feedback and increased awareness in the community, we consider that our biggest success to date.
As part of our community building experience, many of the residents in 2013 came together to create our own unique identity by organizing the first annual SoHud Fools Parade in 2014. The parade will be annually held on the closest Saturday to April 1st
Welcome ALL to SoHud !!