There are some ways that you can help to improve the security of your home, and often for very little cost.
A few quick tips: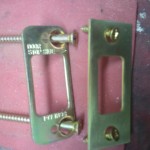 Exchange the screws in the strikeplate of your door locks with 3 inch or longer screws.
Remove large landscaping or other features that can screen a burglar trying to get in your doors/ windows.
Keep exterior lights on.
Keep exterior doors locked and if possible install a deadbolt.
Don't place large screen TVs or other potentially attractive items where they can clearly be seen by criminals casing your house.
We've gathered some resources on home security for you below:
Home Safety and Security links compiled by HomeAdvisor.com
8 Steps to better home security from HomeAdvisor.com
Safety Resources from SafeWise.com
http://crimedoctor.com/home.htm
http://www.columbuspolice.org/Units/srb/Crime%20Prevention%20Literature/Residential%20Security.pdf
http://www.columbuspolice.org/Units/srb/Crime%20Prevention%20Literature/CPTED.pdf