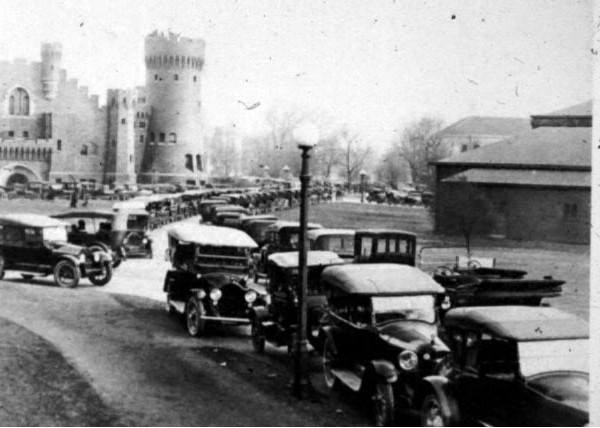 If you are having parking issues or trouble with cars parked illegally, you can call the Parking Violations Bureau to report illegally parked vehicles: (614) 645-6400.
If your car was towed for being parked illegally, you can reclaim your vehicle in person at the Parking Violations Bureau, located at 2700 Impound Lot Road, just off Haul Road at State Route 104.
******* The PVB accepts ****only cash and credit cards (Visa, Discover, MasterCard only) **** for release of impounded vehicles. More information is available at www.columbuspvb.com.
For a list of current parking fines, otherwise the list below is as of July 5th, 2015 (scroll down)
Prevent Getting Ticketed
The Parking Violations Bureau provides motorists these friendly reminders to prevent being ticketed or towed for illegal parking:
Before you park, always check posted signage for hours of enforcement, no parking zones, permit-only or handicapped-only parking
Always check the hours of enforcement posted on a parking meter to make sure you purchase enough time on the meter
Cars parked at expired meters during enforcement hours are subject to ticketing and possible impoundment
Cars parked illegally in no parking, handicapped-only or permit-only zones, and areas with no parking during specific hours are subject to ticketing and possible impoundment
If you have any doubt whether you can park legally in a spot, go to the next nearest parking spot where you are certain you can park legally
Yay Valet (Yay Bikes):
Pedal Instead is now called Yay Valet and organized by the Yay Bikes non-profit. They provide bicycle parking that is staffed by volunteers to watch your bikes while you enjoy the game. Keep a look out for their page for updates and locations.
OSU Bicycle Parking information: 
Stay up to date at the OSU Game day page
Recreation and Physical Activity Center is located at 337 West 17th Avenue, which is adjacent to the southeast corner of Ohio Stadium. Bikes racks are located on the east and west side of the building. These bike racks are open to the public, but are not monitored by staff.

"Pedal Instead" valet bicycle corral is located at south east corner of Woody Hayes Drive and the Olentangy River bike path. It operates like a coat check for bicycles and is staffed by volunteers who keep bikes secure until the end of football games. For more information on "Pedal Instead," please contact Catherine Girves with Yay Bikes! at 614-371-8232, cgirves@pedalinstead.org or log on to www.pedalinstead.org to read

"Frequently Asked Questions".
OSU Game Day Parking
Stay up to date with available parking and fees for game day. We ask that you continue to respect the neighborhood while you enjoy the game by maintaining the same composure you would in your own neighborhood. Bring it in, Pack it out is a motto you would use while you enjoy our country's beautiful parks, so should it be while you enjoy our beautiful neighborhood. Take your trash with you to dispose of properly. We welcome you to the SoHud and Old North Columbus neighborhood. Visit our local shops and come back often.
The city of Columbus reminds fans to drive and bike safely and responsibly.
Parking fines as of July 16th, 2016
919.23(C) Parking on Grass in city Park $30.00
2105.16 Individual Parking Spaces $47.00
2137.09 Lights on Parked Vehicle $47.00
2151.03 Parking without 10 ft. clearance $25.00
2151.04 Stopping not to obstruct street or crossing $39.00
2151.08 Motor running or brakes not set $47.00
2151.09 Parking more than 72 hours $30.00
2151.11 Parking near railroad spur tract $22.00
2151.12 Blocking driveway or garage $63.00
2151.13 Funeral service parking in front of church or funeral home $25.00
2151.14 Parking prohibited for displaying vehicle for sale $25.00
2151.15 Parking limited for displaying advertising $22.00
2151.16 Parking limited while offering materials for sale $25.00
2151.17 Parking for washing, greasing or repairing $25.00
2151.18 Parking in residential permit districts $50.00
2151.19 Moving vehicle when loading space requested $25.00
2151.2 Overtime, truck, bus or house vehicle $30.00
2151.21 Fail to register or display $50.00
2151.22 Junk motor vehicles $89.00
2151.23 Junk motor vehicles on private property $47.00
2155.02 Meter spaces limited to vehicles only $39.00
2155.05 Overtime, meter $30.00
2155.06 Illegal parking $30.00
2157.04 Parking, standing of vehicles prohibited – snow emergency $63.00
2131.27(B) Parking Near Emergency Vehicle $63.00
2151.01A Parking prohibited on a sidewalk, shared-use path, curb, or street lawn area between a curb and right-of-way line, except a bicycle $55.00
2151.01AA Parking – prohibited within 1 ft. of wheelchair ramp $55.00
2151.01B Parking – prohibited within 5 ft. of drive $55.00
2151.01BB Obstructing bus loading area $63.00
2151.01C Parking – within an intersection $55.00
2151.01CC Parking in a loading zone $30.00
2151.01D Parking – prohibited within 10 ft. of fire hydrant $55.00
2151.01DD Parking in a bike lane $55.00
2151.01E Parking – prohibited on crosswalk $55.00
2151.01F Parking – prohibited within 20 ft. of crosswalk $39.00
2151.01G Parking – prohibited within 30 ft. of stop sign $39.00
2151.01H Parking in or near a safety zone $55.00
2151.01I Parking within 50 feet of railroad crossing $55.00
2151.01J Parking near fire station entrance $55.00
2151.01K Parking near street excavation or obstruction $55.00
2151.01L Double Parking, Standing or Stopping $55.00
2151.01M Parking – prohibited, bridge, viaduct or tunnel $55.00
2151.01N Parking – prohibited within 1 ft. of another auto $25.00
2151.01O1 Parking – prohibited, signs, no parking $55.00
2151.01O2 Parking – prohibited, signs, no stopping $55.00
2151.01P Parking – prohibited in front of schools $63.00
2151.01Q Parking – prohibited in front of theaters $22.00
2151.01R Parking – prohibited in street or alley 23 ft. or less in width $63.00
2151.01S Parking – prohibited in front of church $22.00
2151.01T Parking – prohibited in parkway $25.00
2151.01U Parking – prohibited in front of auto mail box $25.00
2151.01V Parking – prohibited on expressway $30.00
2151.01W Parking – prohibited on service road $55.00
2151.01X Parking – prohibited 20 ft. of junction of alley & street $55.00
2151.01Y Parking – prohibited within 10 ft. of bulk refuse container $55.00
2151.01Z Parking prohibited in handicap space $500.00
2151.06A More than 12 inches from curb $22.00
2151.06B Parking facing wrong direction $25.00
2151.10B Parking on public property $25.00
2151.10C Parking on private property $22.00